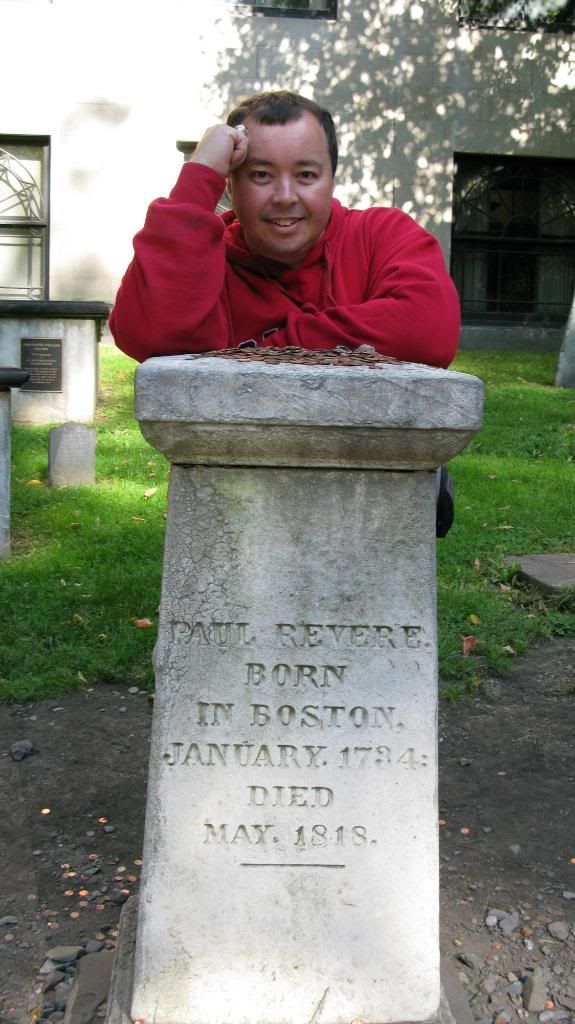 I'm woefully behind in posts for the last few weeks, but it's certainly not been for a lack of stuff to talk about. Rather, quite the opposite is true. For instance, as anticipated, last weekend, my good friend Stephanie commenced a long sojourn from her native Canada (a dark and foreboding place) and ventured down to Boston to visit me.
I do not envy her the trip down as she arrived by bus. I've taken my share of overland bus trips and I can think of a good number of preferable ways to travel. Yet, she braved the hassles and highways and was safely delivered to me in Boston-town early Friday morning. I met her at the station and our tour of the Center of the Universe began.
Boston is one of those wonderful places where you are best served if you travel by foot. Thus we began our path in the financial district and made our way through Downtown Crossing and on up to Boston Commons. There I pointed out the Freedom Trail, that red-bricked line that runs through the streets of Boston, passing the most historic sites and points of interest.
Our first stop, one that began to feel as if it would last all day, was the cemetery called the Old Granary Burial Ground. There, Paul Revere, John Hancock, Thomas Paine,
Samuel
Adams, the parents of Benjamin Franklin, and Mary "Mother Goose"
Vertigoose
are all buried. It's a lovely old burial ground that boasts stones that are both old and interesting. Our slow walk through the grounds set the stage for the wonderful and relaxing day ahead.
From the cemetery, we followed
Tremont
Street down toward Quincy Market. Now, for those of you from anywhere other than Boston, that might be mistaken for "
Kwinssy
Market". But take note. The proper and correct name is "
Kwinzy
Mahket
". There we toured
Faneuil
Hall and the brick courtyard that is the whole of Quincy Market.
Inside, we had the good fortune to come across Eric Hanson, a Ranger with the Parks Service who kindly narrated for us the origins and history of
Faneuil
Hall. Stephanie seemed held in rapt attention as she politely listened to Eric recount his tales of patriotic
dissension
. It was about halfway through his monologue when, our young Canadian friend's sarcasm got the best of her and she began to poke in jest at my beloved Boston. I won't go into details,
but it involves a certain very old eagle and an lack of housekeeping. But, suffice to say, before Stephanie comes to visit your city, do make sure you've properly dusted all of the historic statuary. (My mother would have been mortified.)
Later that day, Stephanie and I enjoyed a plate of raw oysters at the Union Oyster House, purportedly the oldest continually operating restaurant in North America. We ate a the same curved bar that Samuel Adams sat before in eating shellfish.
Moving onward through the market we made our way down towards the North End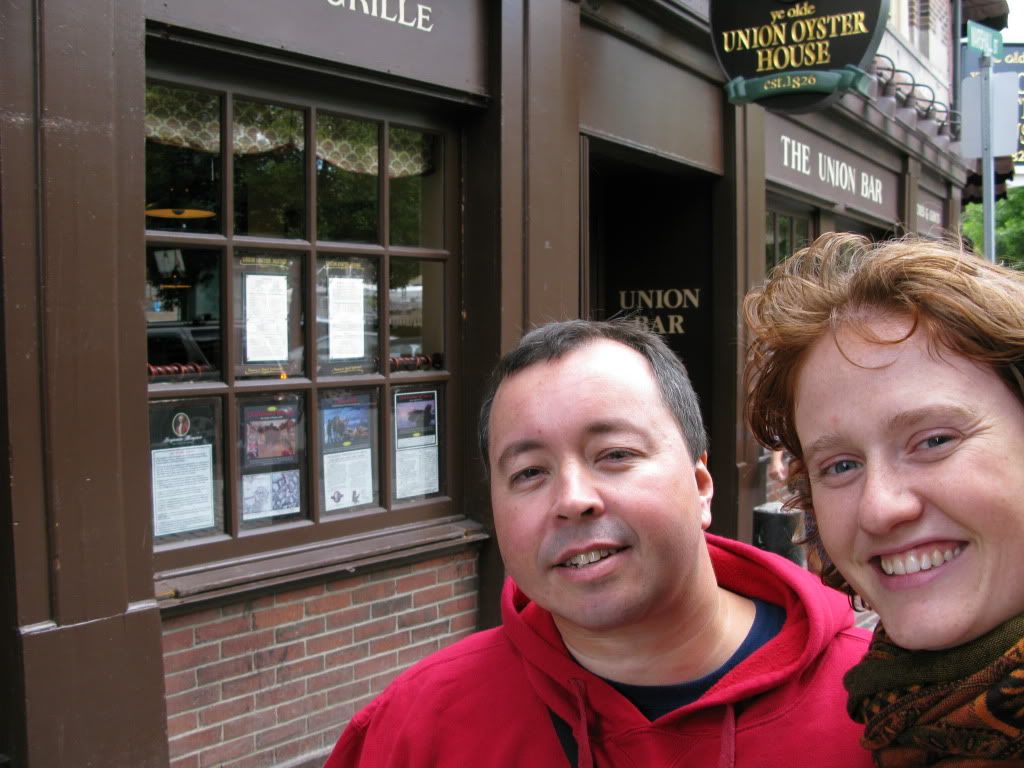 , then looped back around up Beacon Hill, past the state house and through the brownstone homes designed by Charles Bullfinch. We steered clear of "Cheers" (ugh) both because she was unfamiliar with the TV show and I saddened by what has become of a once lovely little pub. It's more resembles a tacky gift shop now than it does a pub. They still know your name in there, but only if your name is "Visa" or "MasterCard."
On Saturday, we visited the Connecticut Renaissance
Faire
. It was Stephanie's first
Ren
Faire
and she was once again as brave as she is lovely. She donned a swashbuckling pirate costume and even had the courage to enter in full-contact combat with a trained swordsman. Huzzah, Stephanie! You made me proud!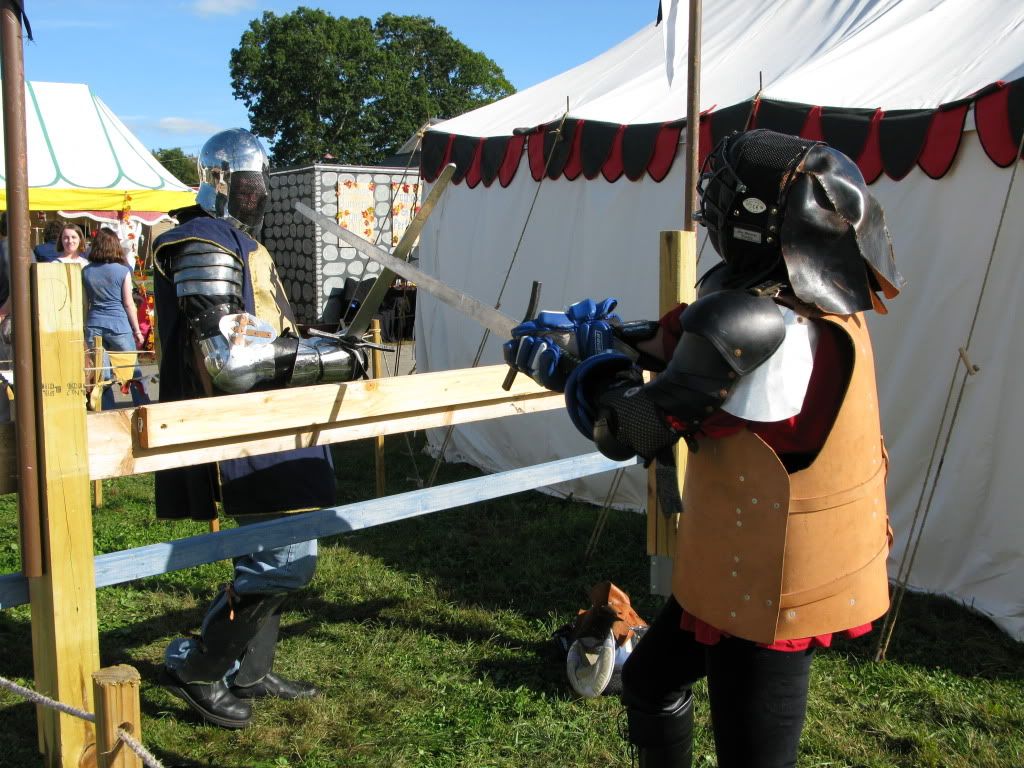 Sunday was more relaxing. Accompanied by Janet and little Benjamin, we had a nice meal at the No Name Restaurant on the pier and which was followed by a relaxing evening at home watching Firefly. Stephanie's choice. (I told you she was cool.)