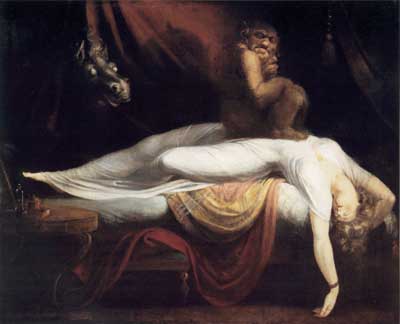 Clinging tightly to sweaty skin
This subconsious tensile veil
Entangles me
Suffocates, asphixiates
Tugging upon my tumbling body
As I struggle to tear its transparent pale.

Images undulate with obfuscated forms
Over and under in the obscure
And twilight world
Within which I am wound.
Ocean waves, falling, and faces - such fears
Desire, conspire, to hold me secure.

I gasp and stretch to escape the grasp
Of the morbid forms that hold me fast
Miring me
In the unconscious solitude of sleep.
I tossle and turn trying to pierce the shroud
Under which I lie soaked in sweats of the past.

My mournful cry is muffled and muted.
Silence, the sole sound of screaming
A voice?
Can it be? Is this far-off call is seeking me?
What is real? Is not this veil?
And now a hand! --
"My Love, you were only dreaming."
-Gleno