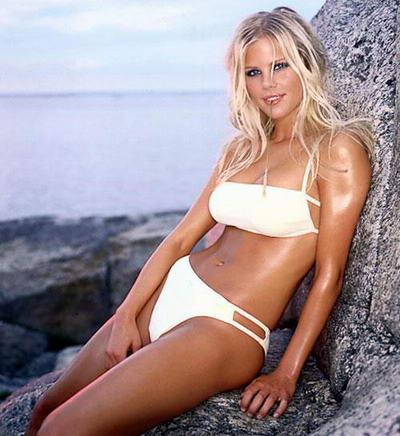 The Chosen One seems to have encountered a few... let's call them impediments... on his journey toward destiny. It seems the woman he married (that's her just there to the right) has proven insufficient to meet the needs of his Chosenhood and he found it necessary to sate himself elsewhere. Many elsewheres, as it turns out.
Like the vast majority of people out there, this story had little interest for me until just this morning when, on the ride into work, I caught a few things being said about Chosen One that defied credulity. These were not statements regarding resently revealed trists, rather, they are statements made many years ago when he broke onto the sports scene like a tiger attacking an antelope. What follows are statements that were captured in either interviews or other recorded events over the years. I think they paint a rather vivid picture of the standard that the Chosen One was expected to uphold.
Interviewer: "Do you see yourself as a leader, a Gandhi or a Nelson Mandela?"
Tiger Woods (21 years old): "I will have more impact than Gandhi or Nelson Mandela because I will have a larger forum than both of them."
Tiger Woods
: "I know I can handle all this, no matter how big it gets."
Earl Woods (Tiger's father): "Tiger is going to be the bridge between the East and West. He plays a sport that is international. There is no limit to what he can achieve because he has the guidance."
Earl Woods: "Tiger will do more than any other man in history to change the course of humanity,"
Sports Illustrated: "Mr. Woods? Do you mean more than Joe Louis and Jackie Robinson, more than Muhammad Ali and Arthur Ashe?
Early Woods: "More than any of them because he's more charismatic, more educated, more prepared for this than anyone."
Sports Illustrated: "Anyone, Mr. Woods? Your son will have more impact than Nelson Mandela, more than Gandhi, more than Buddha?"
Early Woods: "Yes, because he has a larger forum than any of them. Because he's playing a sport that's international. Because he's qualified through his ethnicity to accomplish miracles. He's the bridge between the East and the West. There is no limit because he has the guidance. I don't know yet exactly what form this will take. But he is the Chosen One. He'll have the power to impact nations. Not people. Nations. The world is just getting a taste of his power."
Earl Woods (during a speech at a dinner): "Please forgive me, but sometimes I get very emotional when I talk about my son. My heart fills with so much joy when I realise that this young man is going to help so many people. He will transcend golf and bring to the world a humanitarianism which has never been known before. The world will be a better place to live, by virtue of his existence and his presence. I acknowledge only a small part in that, in that I know I was personally selected by God to nurture this young man and bring him to the point where can make his contribution to humanity. This is my treasure. Please accept it and use it wisely. Thank you."

Tiger Woods: "I think it's an honor to be a role model to one person or maybe more than that. If you are given a chance to be a role model, I think you should always take it because you can influence a person's life in a positive light, and that's what I want to do. That's what it's all about."
Tiger Woods: "My main focus is on my game."
Gleno: "Yes, but which game?"
Tiger Woods: "If you can't laugh at yourself, then who can you laugh at?"
Gleno: "Well, we can laugh at you, apparently."
Just what is it that drives celebrities to do self-destructive things? Why is that those people who have it all (I did mention that the woman in that picture is his wife, right?) seem to exhibit an irrational desire to risk it all? Is it boredom? Is it the lust for adventure? Is it a feeling of invulnerability? At what point do you begin to believe all the absurd, obsequious, kowtowing drivel that people tell you?
It seems apparent that Tiger began to believe it at a very young age indeed. Clearly, his father raised him to think he was indeed the Christ-Child. Did that contribute to Tiger's actions? Did he really think himself invulnerable or did he just want us to think he was?
And most importantly of all, do we, should we care?